Last Tuesday, a sex video went viral on Malaysia's social media. Three clips purportedly show a young man having sex with an older man who closely resembles a Malaysian Cabinet Minster.
So only a year after Anwar Ibrahim, once Malaysia's Prime Minister in Waiting, was given a full Royal pardon for his two convictions for sodomy as a result of which he served many years in jail, another Minister is caught up in a gay scandal. It is generally agreed that Anwar's convictions were politically motivated with the aim of keeping him out of power. The evidence against him was weak in the extreme with his accuser in the second case, although cute
, generally regarded as a liar.
But suspicion has arisen that politics is also at the bottom (sic) of the present scandal. At the last General Election, the former Prime Minister, Mahatir Mohamad, who first turned against Anwar and had him jailed in the late 1990s, surprisingly joined forces with Anwar's opposition party to defeat the corrupt government of Najib Razak. Anwar's wife is now the 93-year old Mahatir's Deputy Prime Minister. As part of his deal with Anwar, Mahatir publicly promised that Anwar will succeed him after he has completed two years as Prime Minister.
Two days ago the young man in the video went public. In a Facebook posting, Muhammad Haziq Abdul Aziz who is elsewhere described as a tall and well-groomed lawyer said this –
"With this, I, Haziq Aziz, am making a sworn confession that I am the individual with [he names the Minister] in the video which went viral yesterday," he said.

"The video was taken without my permission on May 11 during the Sandakan by-election in (his) room at Hotel Four Points."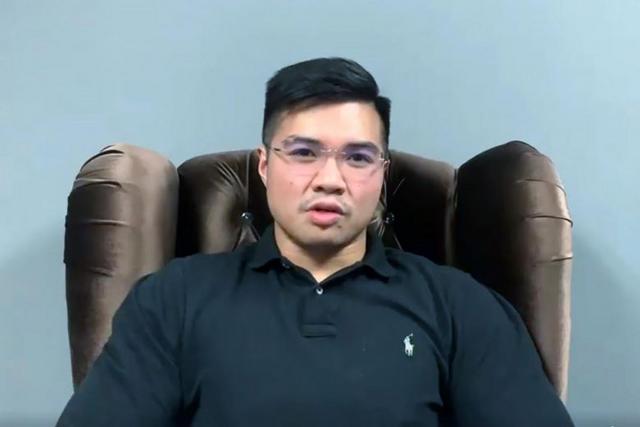 Muhammad Haziq Abdul Aziz
Mr Haziq is 27 and works as senior private secretary to the Deputy Primary Industries Minister. The Minister he names is Datuk Seri Azmin Ali, the country's Economic Affairs Minister. In the video, Haziq Aziz also asked for the Malaysian Anti-Corruption Commission to investigate Azmin for corruption. One of the many questions Malaysians are asking is: what corruption? Is this just a set-up smear campaign for political ends?
As The Singapore Straits Times reported –
Mr Haziq came across as composed, confident and purposeful. He certainly put another famous accuser, Mr Saiful Bukhari Azlan, who lodged the sodomy complaint that landed Mr Anwar in jail in 2015, in the shade.
Azmin Ali has vociferously denied he is that man in the video and announced he will take legal action. But conspiracy theories abound, one suggesting that Mahatir was planning to have Azmin Ali succeed him instead of Anwar Ibrahim. As a result of the video, despite its lack of clarity and whether or not it was all a set-up as some believe, any backing Azmin Ali might have had from Mahatir is likely to evaporate.
[Azmin Ali's] chances at the top job may have been shattered despite his denials.

In fact, an oft-heard comment from a number of political players in the last couple of days was that "the path is clear for Anwar".
https://www.channelnewsasia.com/news/as ... r-11618006
https://www.channelnewsasia.com/news/as ... r-11622780
https://www.straitstimes.com/asia/se-as ... n-politics