Last Thursday Hong Kong airline Cathay Pacific got rid of its old advertising slogan. As part of its new marketing and rebranding exercise, its slogan will in future be "Move Beyond". Many in the media and other commentators have been somewhat confused as to what this might actually mean. Move beyond what?
At the packed Media Conference announcing the change, one of the new ads attracted most of the attention - a photo of two men holding hands with the slogan "Move Beyond Labels". Clearly intended for the gay community, this is perhaps hardly a surprise considering Cathay was one of the sponsors of the Hong Kong team which bid for the Gay Games which will be held in the city in 2022.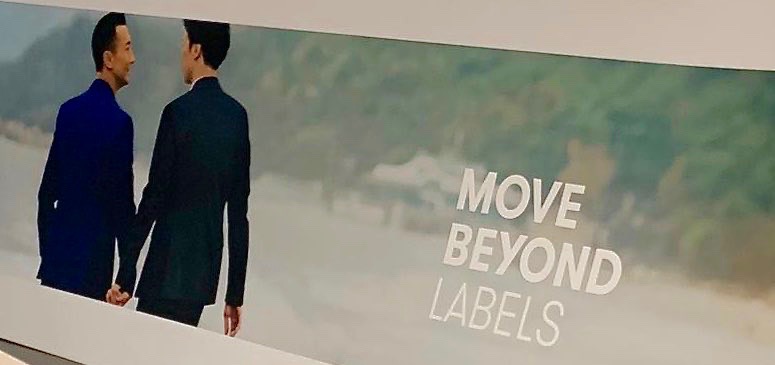 Not everyone thinks this is a good idea, though.
the ad also drew the attention of the Family School SODO Concern Group, one of Hong Kong's most vocal anti-gay bodies. It said in a Facebook post that it was disappointed in the airline and would stop using its services.

Hong Kong's LGBTQ community is looking to advance equal rights in court this year, with multiple pending cases involving spousal rights and benefits.
If that means aircraft will no longer be filled with kids, then I am all for it! But whilst I am equally in favour of an airline promoting gay rights and marketing itself as gay friendly, I wonder how many in the LGBT community will actually fly an airline whose prices are usually a bit higher than others. On the other hand, perhaps it is geared more to the front of the planes where many gay men will be travelling paid for by their companies.
Hopefully CX will start recruiting more young guys as flight attendants. 20 years ago you could almost be guaranteed some excellent eye candy on their flights. Although I take the airline much less frequently now, I usually only see a couple of older male attendants - rarely cute ones!
https://www.hongkongfp.com/2019/05/10/b ... ns-praise/