I found this in the Bangkok Post 13 Jan 2020, P.3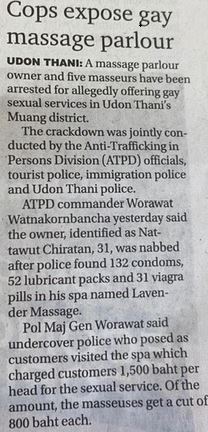 Cheaper than Bangkok's massage prices.
This might have been the only gay massage venue in Udon. There's lots of straight massage joints and karaoke bars masquerading for sex all over Issan in the cities as well as the small towns. Reasonable short time rooms are generally adjacent to these establishments. They're often marked only with Christmas type lighting.
Actually, you don't have to go that far up country to see these. They are even in the sub-burbs of Bangkok. You never hear of the police closing them down.