It's a year since I posted about this small casual restaurant and it is worth further note. Tucked into a small alley off Saladaeng (across from the MBK restaurant), La Table de Tee has been open for some years. Tee is a young chef who worked in a top Michelin-starred restaurant in London. He and a friend, Ann, returned to Bangkok to open the restaurant. Ann is the maître d'. Some may remember that he worked as a barman in Telephone Bar for a few years in the mid-1990s, although he has understandably put on a bit of weight since then!
Tee's menus are simple but the dishes more complex and almost always delicious. The concept is western fusion nouvelle cuisine. Five courses, the first two of which are set with a choice of two dishes for the remaining three. The menu changes daily. Portions are small but taken together make up a very satisfying dinner. There is a reasonably short inexpensive wine list. Wine by the glass is also offered.
I have dined there twice in the last four weeks. Both times we found our dinners were excellent. Friday night's menu is attached, but more can be found on the restaurant's website and Facebook page.
La Table de Tee is only open for dinner. Closed on Mondays. It is often booked out at the weekend and so best to call in advance. Surprisingly on Friday there were very few diners, but on Saturday Ann told us it would be full.
Mid-priced at Bt. 1,350 per person + 10% service. But well worth it, perhaps for a special occasion.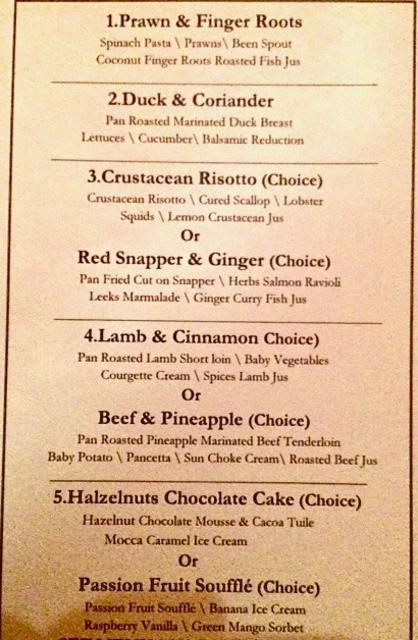 http://www.latabledetee.com