If you're not familiar with what a Doner kebab is, see:
http://en.wikipedia.org/wiki/Doner_kebab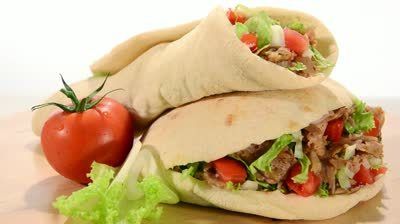 In Pattaya, there are some stationary Doner kebab stands scattered about town and plenty of motorized pushcart vendors that go around the neighborhoods.
On my soi, one or two Doner kebab motorized pushcarts come around every day between 4:45pm - 5:15pm. The other day, for the first time, I tried one. I really liked it. It was very similar to what the referenced article describes.
First they take a large pita bread and heat it up by holding it with tongs in front of the same grill that's cooking the meat. Then they lay it flat and start putting diced vegetables on it, usually cucumber, cabbage, onions, and tomatoes. Then they slice off and dice up the meat and put it on top of the vegetables. I don't know whether I'm getting chicken or pork, but at least it's fully cooked. Finally they add three or four different kinds of sauces, fold it up as a wrap, and there you are.
Apparently there are a great many variations as to how they're served and the ingredients. The ones I get from the vendors come out like the wrap type in the photo above.
The price is 60 baht. Can't beat that. Now Doner kebab is my favorite Thai 'fast food.' If I don't want it to be my dinner, I'll save it and reheat it for lunch the next day.
That's one more thing I like about Thailand. If you don't feel like going out to a restaurant, no problem. The restaurant comes to you.
This video was filmed in Bangkok - Sukhumvit Soi 3/1: