Brunei – Excess and Hypocrisy in the Extreme
The penultimate in this very personal series of comments on historical events that have helped shape gay life in much of East Asia puts the focus on what I believe are ominous signs for the future, at least the future of around 200 million of its peoples. Events in Malaysia and Indonesia are clearly worrying. However, there is one Muslim country gay men definitely should avoid – Brunei.
The 410,000 citizens of this tiny state enjoy one of the highest average incomes in the world at over $50,000, pay no income tax and enjoy free education and healthcare. About 65% are Muslim and live alongside Buddhists, Christians and those of other faiths. Islam is the state religion but freedom of religion was guaranteed and certain non-Muslim holidays have traditionally been observed – e.g. Christmas. Please note "was". For in Brunei, everything is in a major process of change – for the worse.
The reason for all the largesse doled out by the state is oil. The country produces roughly 180,000 barrels of oil each day. All this wealth has made the Sultan of Brunei, Hassanal Bolkiah, one of the world's richest rulers with an estimated $20 billion in cash and assets. When sterling was falling through the floor and close to parity with the US$ in 1985, Margaret Thatcher went cap in hand to the Sultan and obtained loans to prop up the currency until it rose again in value. But the Sultan, who is the 29th in an unbroken line of rulers of the state, has in recent years been a worried man.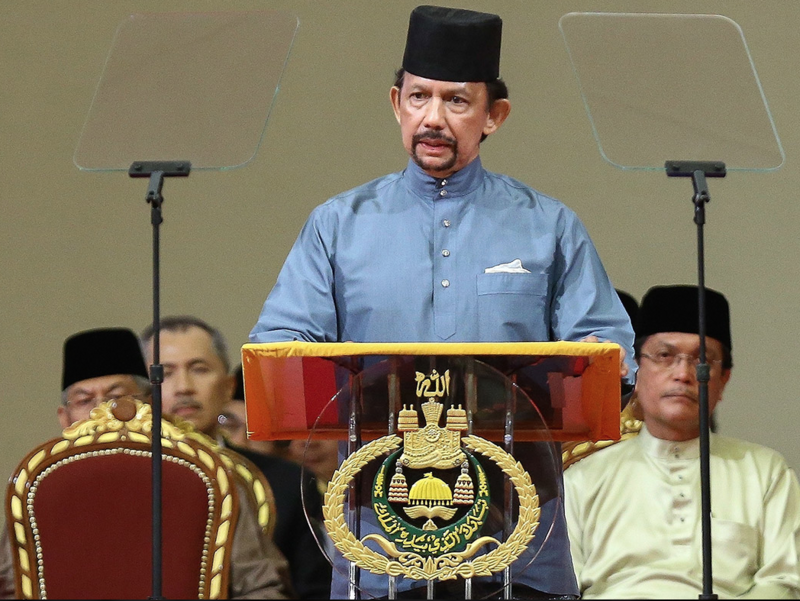 One reason has been his brother. Prince Jafri clearly likes money and thought himself a major businessman. In reality, he was a complete dud. In 1996 a group of companies under his control went bust to the tune of $10 billion. He was also then accused of misappropriating state funds when $40 billion went missing. Some $14.8 billion of that was found in his accounts. Under a secret agreement, in 2000 he started returning assets to the state. These included, according to wikipedia, 500 properties, 2,500 cars, 100 paintings, nine aircraft and five boats! As reported in
Vanity Fair
, one of his yachts was named Tits with its tenders named Nipple 1 and Nipple 2. Not surprisingly, Jafri's nickname is "the sex-crazed Prince".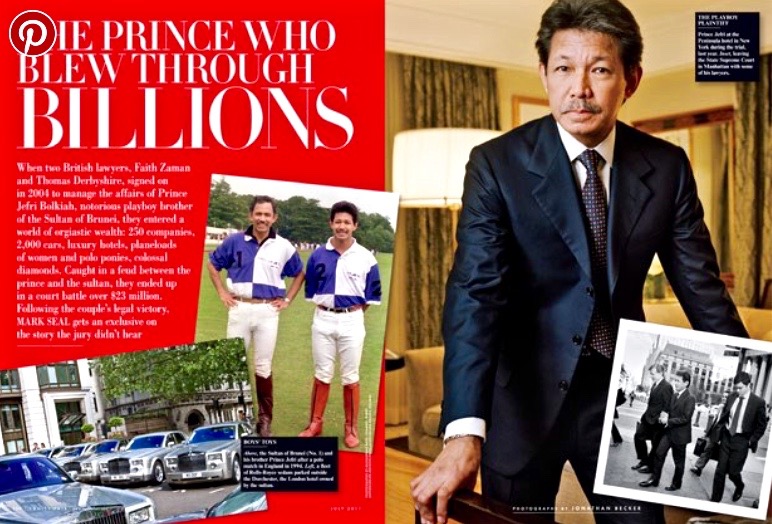 Vanity Fair Article on the Sex-crazed Prince
Not that the Sultan himself is averse to spending. He owns a custom-designed Boeing 747-400 for his personal use, has been known to spend US$21,000 on getting a haircut and has a passion for the world's most expensive cars of which he owns 6,000 (no extra zeros there), including 604 Rolls Royce, 574 Mercedes (one gold-plated), 452 Ferraris and 21 Lamborghinis. That car collection alone is estimated to be worth $5 BILLION! All this is before we consider his Palace. With 1,788 rooms and 257 bathrooms, it is the second largest in the world – the largest being Beijing's massive and unoccupied Forbidden City.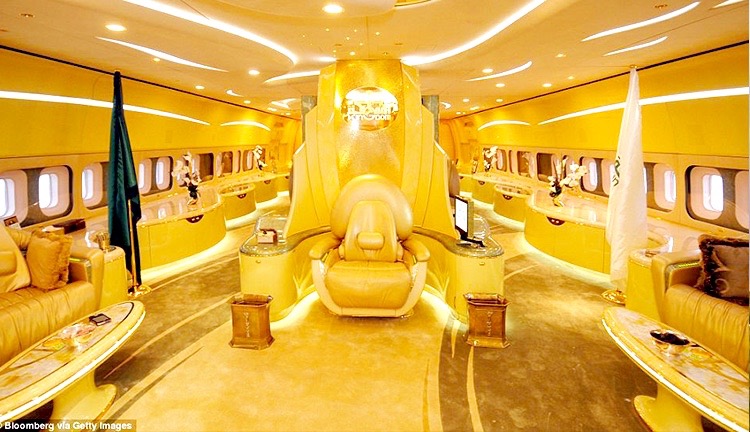 Interior of the 747-400
Nor is the Sultan any different from his brother when it comes to nubile young women. In her book
Some Girls
, American Jillian Lauren writes about how she was recruited at the age of 18 to work in Brunei. It was not long before she realised that work was to be a member of Jafri's 40-strong harem. Most of the girls, she says, were Filipino or Thai, many as young as 15. "There's no such thing as underage over there," Lauren adds. Her most damaging revelation is that the Sultan himself would sometimes order up girls from the harem. In 2016 ABC Television in Australia aired a documentary detailing the Sultan's exploits titled
The Playboy Sultan
.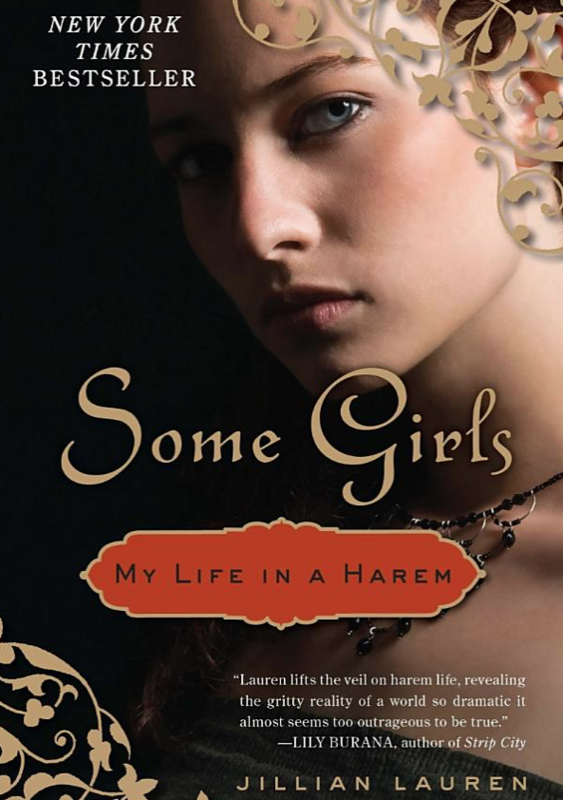 If the Sultan has any concern about his family, his second son must cause him no end of angst. Prince Azim is one who likes to spend – and spend big. For his 30th birthday party, he took over one of London's finest hotels, the Dorchester, naturally owned by his father, and flew in a galaxy of celebrities. Mariah Carey, Marisa Tomei, Faye Dunaway, Raquel Welch and Jerry Hall joined the bash and were entertained by the golden oldie, Dione Warwick. Flowers for the evening are said to have cost $100,000. All guests left with goodie bags which included an all expenses paid Kenyan Safari. The guest lists for other birthday parties have included Janet Jackson and Chaka Khan.
Mariah Carey is clearly a favourite. Just before a 2006 concert in New York's Madison Square Garden, Azim presented the songstress with a necklace that cost $5.4 million. Only he could not be there. So the necklace was sent in his private jet. Little wonder that one British newspaper has dubbed him "The Sultan of Bling". A few years later, Ms. Carey was at his New Year's Eve London bash where she was paid $500,000 per song for three songs. Plus all expenses, of course!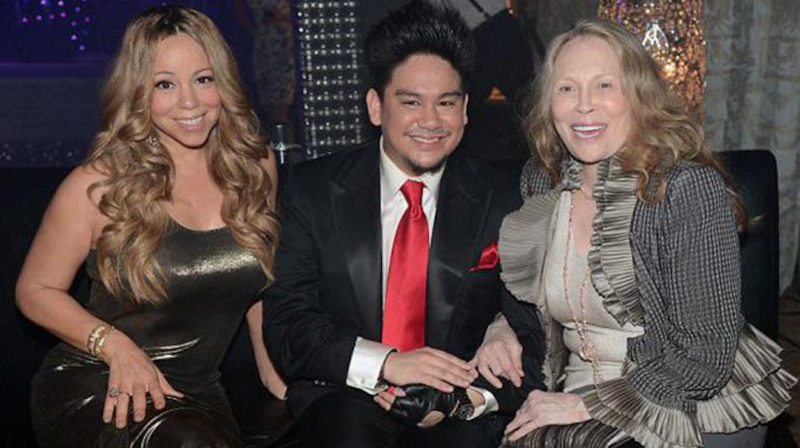 Prince Azim with Mariah Carey and Faye Dunaway: copyright Richard Young/Rex Features
If lavish spending is one of Prince Azim's vices, another might be locked in a diamond studded closet. The 37 year old and still unmarried Azim has been the subject of many rumours that he is gay. Gay celebrities attend his parties. Skier Gus Kenworthy was at one with his boyfriend along with Caitlin Jenner, arguably the world's most famous transgender person. In its 9 April 2019 online edition,
Newsweek
, had an article about Brunei's new shariah law as it affected the LGBT community. It then added, "The new laws could very well mean that the Sultan will have to dole out the fatal punishment to his near-and-dear ones too." Worse followed. "Perez Hilton has come out to claim that the Prince doesn't just hang around with queer people, and that he is gay himself.
Gay social media sites had for long included photos allegedly of Azim sitting in a rather posed SM photo and others of him with men naked from the waist up.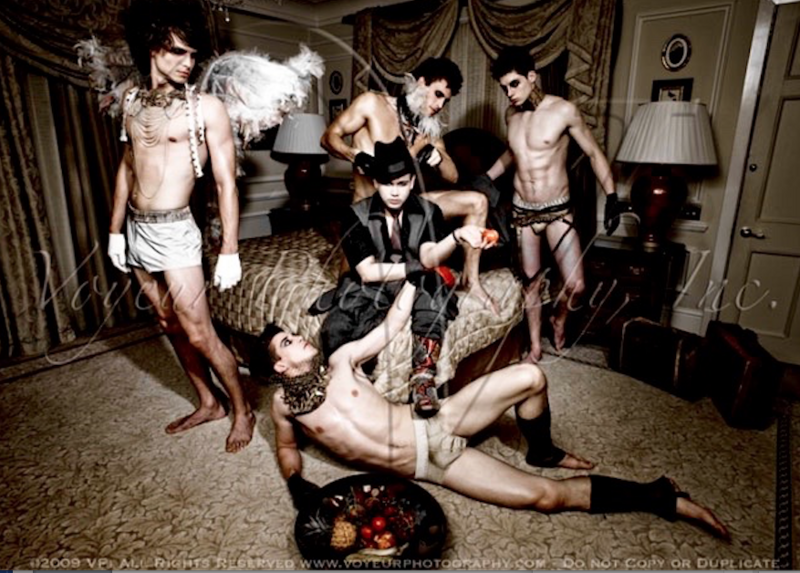 An online Photo purportedly of Azim and his Gay Friends
The collapse of the price of oil and Brunei's other exports has had a major effect on the Sultanate. For some years Brunei has been going through a major economic downturn. Prices have risen, crime is on the increase and concern about further Islamic unrest, partly from neighbouring Malaysia, has the Sultan on the defensive.
With growing rumblings of discontent added to religious issues, the Sultan has become increasingly concerned about his own position and that of his family. Five years ago he instituted religious reforms by announcing the implementation of much stricter sharia law in three stages over three years. As in Indonesia's Aceh Province, and unlike in Malaysia, this now applies to all citizens regardless of their faith. So even if you are not a Muslim but you are gay and are caught having consensual sex with another male, the prescribed punishment is death by stoning. LGBT advocacy groups in Asia, Amnesty International and the United Nations have publicly condemned the draconian new laws. Thanks to a worldwide campaign led by many major personalities, the extreme penalties for homosexuality have been toned down considerably. But even celebrations of Christmas are now completely banned.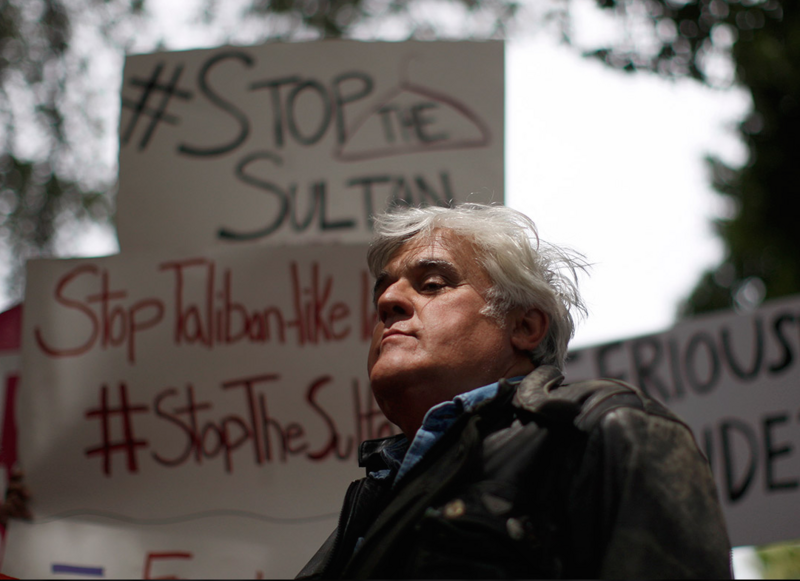 Jay Leno outside the Sultan-owned luxury Beverly Hills Hotel Protests the Introduction of Islamic Law
As one
Al Jazeera
article noted, the Sultan "is joining the ranks of governments in the Muslim world who manipulate Islam to suit their own political purposes." Earlier the Sultan had attempted to explain the introduction of stricter sharia law by stressing the old canards – including abuses of mass communications and internet social media sites. Apologists of stoning for homosexuality point out that before a guilty verdict can be reached, eyewitness testimony must be provided by between two and four adult males. Naturally one wonders how up to four men – for it must be the testimony of males – are likely to witness what is a private act between two other men. Yet in Indonesia's Aceh Province in 2017, that is precisely what happened. A group of gay bashing vigilantes caught two men having sex. The poor couple were each then given 90 lashes of the cane in front of a large crowd including women and children.
We must remember that Brunei is yet another country that still carries the old British colonial anti-sodomy law on its statue book with punishments of up to ten years in jail. For some reason the old laws will continue alongside the new. Some suggest that bringing cases under the old law will be far easier for prosecutors than under the new because the old has no the requirement for eyewitness proof. Naturally the new law assumes that eyewitness evidence is not fabricated – an assumption I certainly would not wish to depend on. But under whichever law cases involving homosexuality are brought, a gay couple considering a visit to Brunei needs to think very long and hard before making the trip. At the very least they should consider booking separate bedrooms.
For the final article in this series, I move north again to a country close to where it began – Korea.