Malaysia and Indonesia (3) – Financial Scandals and The Wolf of Wall Street
For the Muslims in most of Malaysia's states, a mild form of Islamic Law is practiced! Indeed hudud was treated merely as a fringe topic. But, as we have seen, with the rise in Islamic fundamentalism in Iran the Malaysian government began to get worried. Perhaps rightly so. Now the northern states of Kelantan and Terengganu have enacted a few of the more severe hudud forms of Sharia law and would like to add yet more. In the rest of Malaysia there was a big concern a few years ago about a bill tabled in parliament that would permit harsher punishments throughout the country. Many, though, believed this was just a political ploy in an effort to save the job of embattled Prime Minister Najib Razak. Before the bill could be debated, it was effect8ively killed by the 2018 General Election.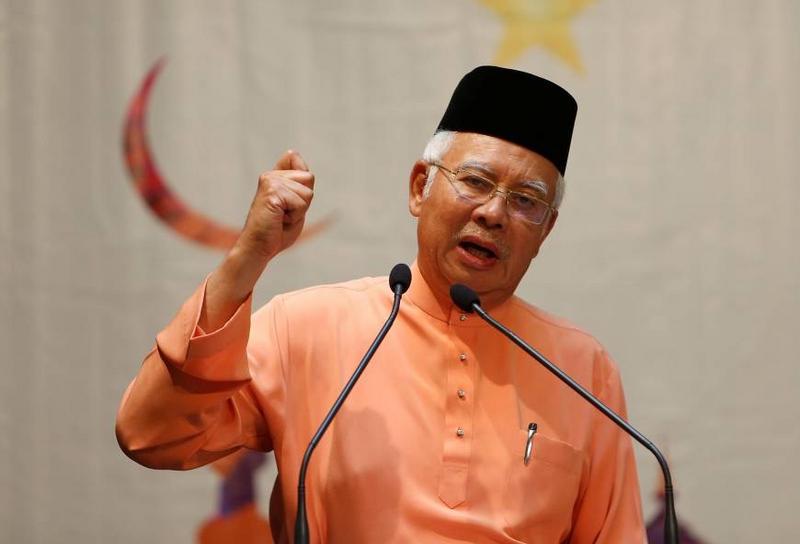 Corruption has never been far from most developing Asian societies, with the exceptions in recent years of Hong Kong and Singapore, both regarded as amongst the 'cleanest' governments anywhere. But in the last decade or so, the scale of financial scandals elsewhere has escalated dramatically, nowhere more so that in Malaysia and Brunei. Brunei will be considered in a separate article. As far as Malaysia is concerned, in 2009 soon after assuming office, Najib set up an investment trust named 1Malaysian Development Bhd. Its aim was to turn Kuala Lumpur into a mega financial hub and obtain funding for major national infrastructure projects.
Early in 2015 it missed payments on some of the $11 billion it owed to banks. With Malaysia's media muzzled, a long report eventually appeared in the Wall Street Journal alleging it had traced unexplained payments of close to US$700 million in Najib's personal bank accounts. Unsurprisingly this caused an outcry and put pressure on Najib and his government. Instead of detailed explanations, Najib fired his Deputy and the Attorney General and shuttered Malaysia's Anti-Corruption Commission. Singapore banks were involved. The island state's Monetary Authority soon claimed it found "lapses and weaknesses" related to 1MDB at DBS, UBS and Standard Chartered banks. Two private Swiss banks have since been closed down amidst allegations of "gross misconduct."
Since some of the missing 1MDB funds were routed through US banks, the US Department of Justice had become involved. It has alleged the total misappropriated from 1MDB is a great deal more than the unexplained payment to Najib and now stand at a whopping $4.5 billion. The Deputy FBI Director called this "fraud on an enormous scale." In what is certainly one of the biggest financial scandals in history, the investment firm of Goldman Sachs has been heavily involved. A total of 17 current and former Goldman Sachs executives, including its former CEO, now face criminal charges.
In a The New York Times article on 22 July 2015, whilst Najib himself was not named, he was clearly identifiable as "Malaysian Official 1" in the FBI documents. This was because "Official 1" is stated to be a relative of one Riza Aziz. Mr. Aziz just happens to be Najib's stepson.
Among other items, Riza purchased huge properties in Beverly Hills, New York and London, and set up Red Granite Pictures, the company which financed Leonardo DiCaprio's "Wolf of Wall Street" movie. 1MDB has denied it was ever invested in Red Granite Pictures! It also denied wrongdoing re its finances. Well, it would, wouldn't it? But somehow the latest 1MDB accounts show $11.73 billion of debt of which $4.5 billion is missing.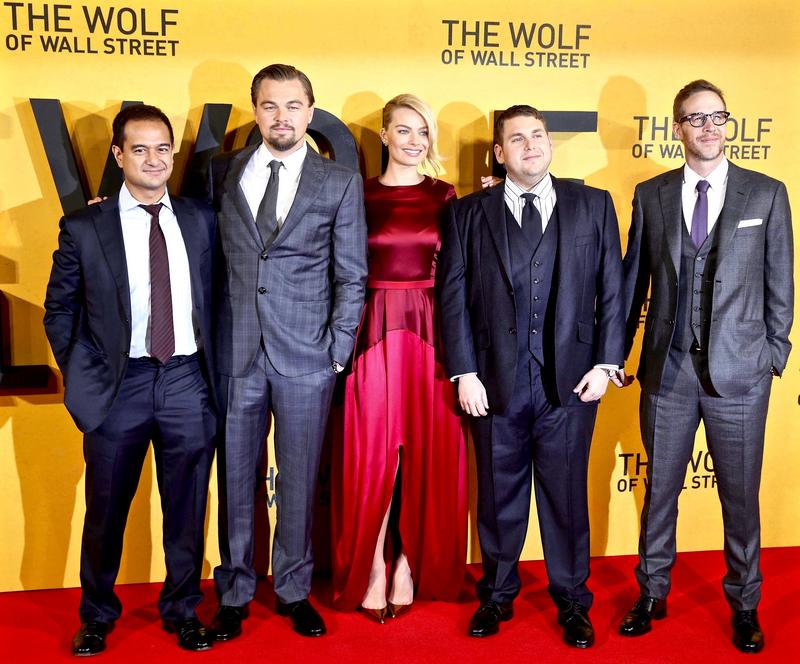 Leonardo DiCaprio with his arm around Riza Aziz
Najib initially erected a stockade around him and his cohorts. In August 2015 new national security laws were introduced giving him sweeping powers over protests planned to call for his resignation. The pretext was to enable the government to deal more effectively with any threat to the country's security from a fringe element of radical Islamists. Old British laws on sedition were also resurrected to arrest critics, jail opposition leaders and stifle free speech. Anti-Najib rallies were then banned.
As this scandal was unfolding, Najib had one more throw of the dice. As noted earlier, he put the government's weight behind a bill proposed by the Islamist Parti Islam Se-Malaysia's. Many in the country were shocked, for this bill would have introduced the strict Islamic penal code hudud with caning, stoning and amputations as punishment. Worse, it went directly against the country's Constitution. The debate was delayed, the public started major street protests and at the ensuing General Election Najib was ousted by a coalition of opposition parties. This week he is finally in court, as is his wife whose collection of 284 designer handbags, luxury watches and 2,000 pieces of jewellery totalling hundred of millions of dollars was seized by police. She is now ridiculed as the Imelda Marcos of Malaysia and commonly referred to as the 'bag lady'!
Ironically Najib was ousted by a coalition involving his former patron and Prime Minster for 20 years, Mahatir Mohamad, who joined unlikely forces with his one-time Deputy Prime Minister and designated successor, Anwar Ibrahim. In 1998 in the wake of the Asian Economic crisis, Mahatir turned on Anwar, a married man with six children. To get him out of the way – and Mahatir usually got his way – he accused Anwar under the old British sodomy laws. On the flimsiest of evidence, Anwar was convicted and served several years in jail. Almost as soon as he was out, another sodomy case was brought against him, this more ridiculous than the first. His handsome accuser had clearly learned his lines well, but not well enough to fool many listening to his evidence. But it was enough for the Najib-influenced court and Anwar was back in jail.
To persuade Anwar to join forces, Mahatir agreed he would be released from jail and a Royal Pardon sought. So it was that the two former friends and then bitter enemies won the election. Aged 92 Mahatir found himself Prime Minster again, Anwar's wife is the Deputy Prime Minister, Anwar's pardon was granted and he is supposed to take over as Prime Minster next year. Or so Mahatir has promised!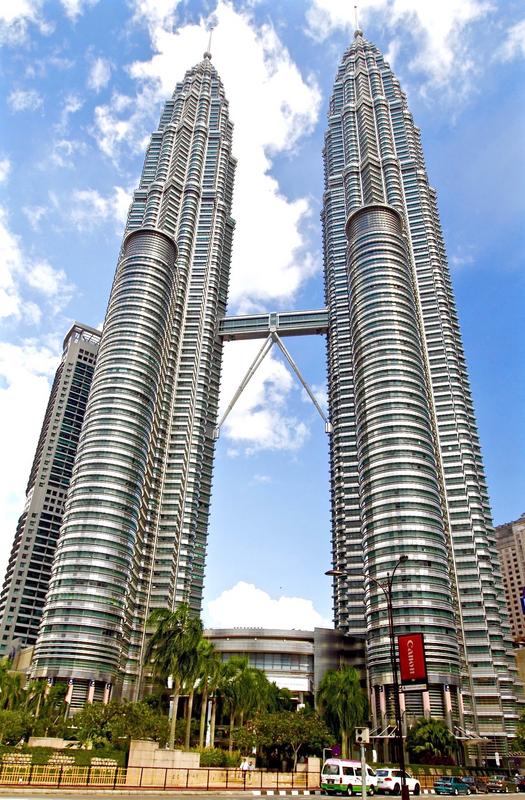 Kuala Lumpur's Twin Rowers, once the World's Tallest Buildings and one of Mahatir's Big Money Projects aimed at putting Malaysia on the World Map
Kuala Lumpur and other parts of Malaysia have always seemed to me pretty relaxed when it comes to gay issues, although there has been more police harassment in recent years through raids on gay bars and the occasional sauna. When visiting friends there in the mid-1990s, they suggested visiting a new sauna that had just opened. Otot2 was packed when we got there and a lot of fun. I cannot recall the membership fee but it was peanuts and I still have my membership card. When I returned a few years ago, the young receptionist greeted me almost in shock. He had never seen such an old card!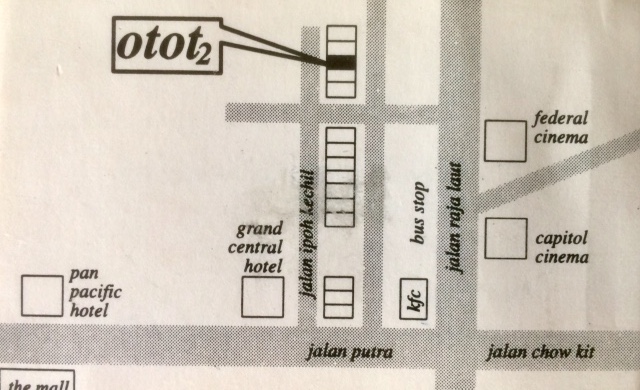 Further south in Indonesia, though, Islamic extremists have been on the march, so to speak. Aceh, where the first Muslims landed, implemented sharia law in 2001. Originally applying only to Muslims, in 2015 it was extended to all citizens. Within months a Chinese Christian woman received 30 strokes of the cane for selling alcohol!
A Public Caning in Aceh before Enthusiastic Crowds – copyright BBC/Getty Images
In 2016 there were a number of verbal attacks that took the LGBT community in the rest of the country by complete surprise. First a former Communications Minister tweeted that the public should kill any gay people they find. Then the country's leading psychiatric association described transgenderism as a mental disorder. In February 100 men marched through Yogyakarta carrying signs reading "LGBT is a disease." The Minister for Research, Technology and Education then accused the LGBT counselling service at one of the country's leading universities as corrupting the country's youth. Worst of all, the Defence Minister described the movement for gay rights as a form of nuclear warfare – meaning an attempt by western nations to undermine Indonesia's sovereignty.
The President, Joko Widodo, whose campaign had been supported by the LGBT community when first voted into office, tried to calm the storm. "We have to remember that all of us also could have a relative or an offspring that is LGBT. They are part of our communities and citizens of our country and they too have to be protected." It has not had much effect.
What has led to recent years to more outbursts and the increase in anti-LGBT rhetoric seemed to be part of the lead-up to this year's General Election which saw an increasing number of Islamic parties and candidates. Widodo's opponent was a strict Muslim former general. As in Singapore where evangelical Christians lead the anti-LGBT forces, so groups of Muslim extremists have been at the forefront of attacks in Indonesia. For those gay guys who enjoy meeting the peoples of this huge country, it is all very depressing.
Anti LGBT campaigners in Jakarta