Taiwan and The Philippines – Calmer Gay Waters
To the east of Hong Kong lies the island of Taiwan. This forum has already explored the rapidly emerging gay life in its capital Taipei in several threads and made reference to the Philippines in others. So I will not repeat any of that here other than to add that Taiwan's progressive government passed a same-sex marriage law in May this year, becoming the first country in Asia to do so.
With a Christian population of less than 4% and Muslims making up way under half of one percent, Taiwan has been a haven relatively free from religious tensions. Perhaps this may be because Soong Mei-ling, the Christian wife of the dictator, gangster and murderer Chiang Kai-shek, was more concerned about influencing American public opinion on the need to stick with Taiwan and its hopes to re-conquer the communist mainland. She failed, and Taiwan was slowly left to get on with carving out its own niche in the world, despite constant harassment in various forms from Beijing.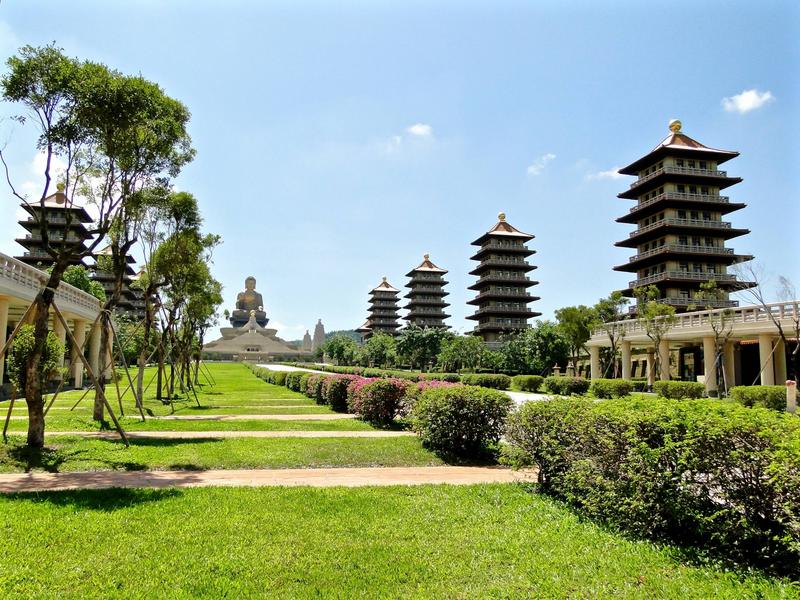 Taiwan's Buddha Memorial Center near Kaohsiung
Many of the colonial powers had dipped their toes in Taiwanese waters. The Portuguese arrived here in 1544 and gave the island the name Formosa (Beautiful Island). The Dutch and Spanish from their nearby Philippines settlements, constantly fought each other until the Dutch won. Eventually though it was the Qing Dynasty in China that annexed Taiwan in 1683. Following China's disastrous defeat in the First Sino-Japanese War in 1895, the island was ceded to Japan, only returning to Chinese rule following the Second World War. At a 1943 Conference in Cairo attended by Roosevelt, Churchill and Chiang, it was agreed that all Japan's Asian colonial possessions in Asia would be returned to their original rulers following the end of the War. Since Mao Zedong and his communists were little more than flies on the wall at the time, the west fully expected Chiang to rule all of China. His defeat to the communists in 1949 and his dash to Taiwan along with 2 million of his followers was a huge upset that lead to two decades of angst in Washington and the constant refrain, "Who lost China?"
Unhappy about the China situation, the USA convened a second Conference in 1952 in San Francisco, one of the objectives being to settle the Taiwan issue. US Secretary of State John Foster Dulles affirmed that the resultant Treaty effectively ceded the island of Taiwan to no other country. Neither Taiwan nor especially China were satisfied with this declaration and China has never agreed with it. So Taiwan remains in a sort of legal limbo, although most nations now agree that the Cairo Conference agreement trumps that in San Francisco. There is only one China.
Gay life on the island was totally inhibited by a long period of martial law when Taiwan was a political pawn during the Cold War. Even today it amazes me that this was only abolished by Chiang's son 32 years ago, a year after I made my first visit. Now a democratic state, gay life has mushroomed mostly unencumbered by religious and political interference. A few right-wing Christian Churches occasionally rant and rave, but individual freedoms for the LGBT community have grown at a rapid pace, to the extent that, as many observers predicted, Taiwan became the first country in Asia to recognize gay marriage.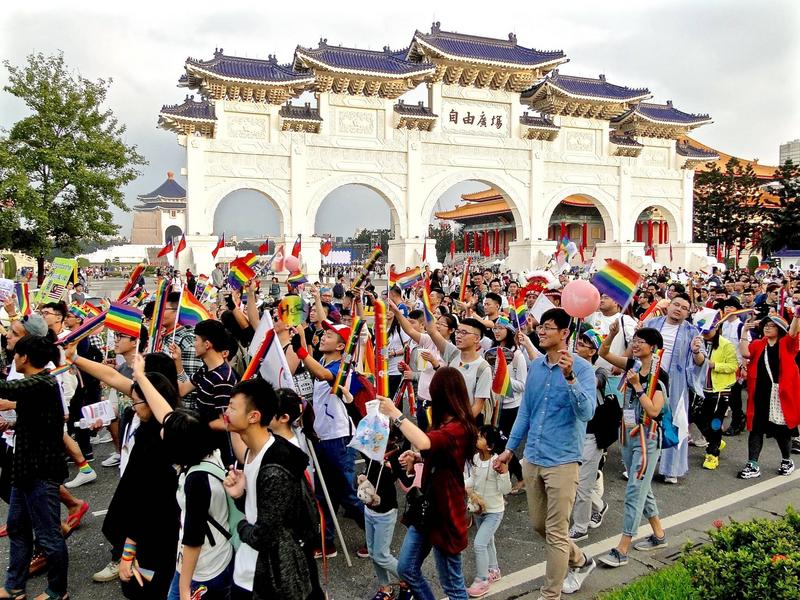 Marching during the 2017 Gay Pride Parade
Nowhere can the emergence of Taiwan's LGBT community and the call for LGBT rights be witnessed better than at the annual Gay Pride Parade. It was first held in 2003 when an astonishing 20,000 took part. In future years, the annual Parades always promoted a social message about consciousness of the gay community and the importance of that community voting to obtain greater rights. I attended my first Parade in 2011. 50,000 took part and I had a whale of a time. Since then, I have attended six more Taipei Pride Parades and the numbers have risen to 140,000. All this is in addition to local Pride Parades in other major cities on the island.
For many years, almost the only place for gay men to meet fellow gays was at Peace Park not far from the Main Station. As dusk descended, this became a major cruising area. The Park became famous in popular culture as the location of "Crystal Boys", Taiwan's first openly gay novel.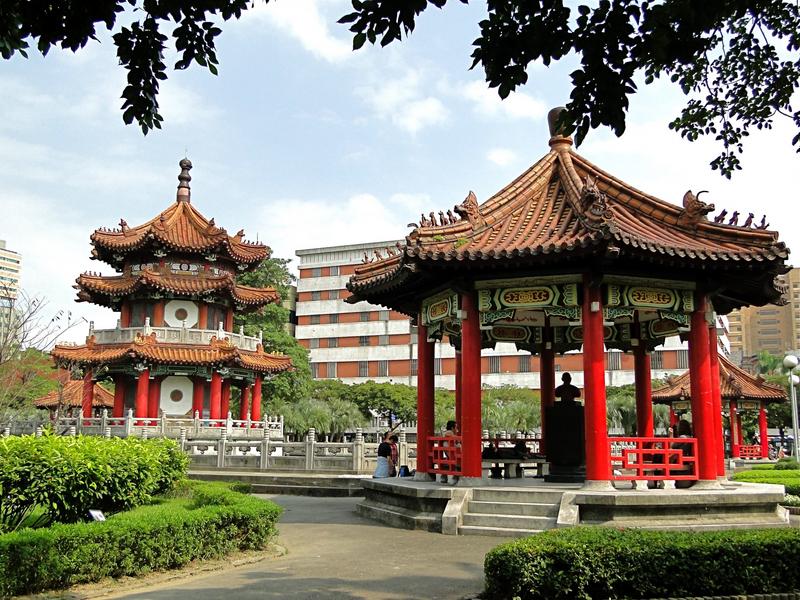 Taipei Peace Park
Then, along with the rise in gay consciousness, came a proliferation of gay venues. The first bar I attended was Funky's near the Sheraton Hotel which finally closed its doors at the end of 2017. The first gay sauna opened in a building close to the main train station. I loved this sauna packed with mostly gym-fit slim young Taiwanese (even today all Taiwanese have to undergo a year or two of military service) and was a regular visitor. Sadly the entire building had to be pulled down after the major 1999 earthquake. Less interesting were those dotted along Xining Road close to where gay central is now located, the Red House Complex of gay bars, cafes, restaurants, clubs and boutiques.
Taipei's thriving gay scene now includes two major and popular saunas, Aniki WOW and Soi13 In, a gay hotel where clothing on the room floors is optional and rooms are usually left unlocked, and a proliferation of bars and cafes, including a leather bar with a very dark dark room and theme nights where a degree of nudity is encouraged.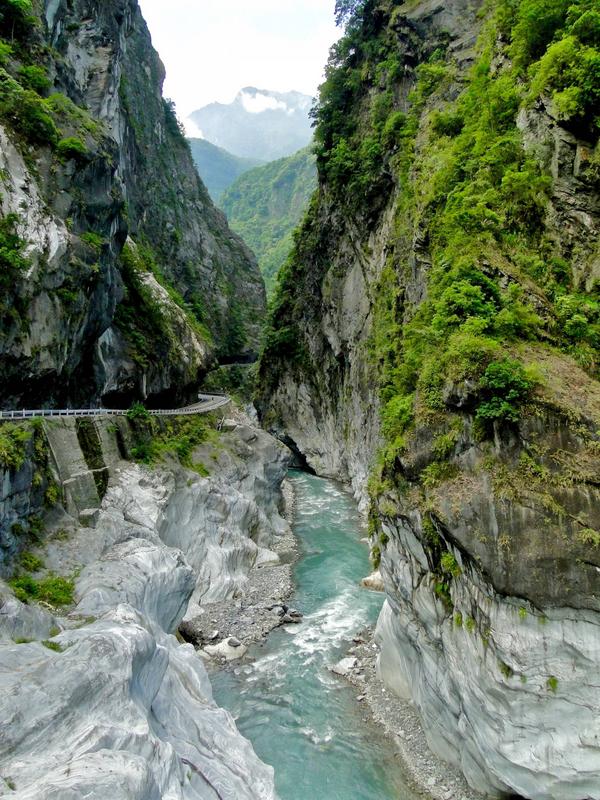 Taroko Gorge on Taiwan's scenic East Coast
To its south, the former Spanish colony of The Philippines is a hotbed of Catholicism. 86% of the population is Catholic whereas many in the southernmost provinces closer to Borneo remain Muslim. The Christian Filipinos are by and large a free-spirited, fun-loving people who are sincere in their worship and certainly pay attention to the Church's teachings on birth control, as evidenced by a population which has soared from 87 million in 2006 to 105 million in 2017. Even so, many also enjoy sexual freedoms that the Catholic Church surely frowns upon, including a considerable gay community. Yet although the Philippines in general is a pro-gay country and same sex activity is not a criminal offense, there are no laws in place to protect gays. Hate crimes do occur, but to a far lesser extent than even in some western countries.
The second key influence here was the Americans who kicked the Spanish out and then colonized the islands in 1896. America departed after the Second World War basically leaving the country with two near disasters. First, a passion for circumcision as some sort of deranged non-religious rite of passage to manhood which has not only resulted in close to 90% of all men being circumcised, but many of the operations being carried out in the countryside by non-qualified witch doctor-types. The result? Botched operations leaving more than a few of the poor boys with quite ugly appendages.
For some time it has even been routine for non-circumcised boys to be ridiculed by their peers! Some put the practice down to the influence of Islam which was common in the country centuries earlier prior to the arrival of the Spanish. Its continuing 'popularity', though, is surely due to the American practice of the times.
The second legacy – a disastrous economy, power still concentrated in a handful of enormously wealthy families, and arguably Asia's worst functioning democracy! One man took advantage to the full of the vacuum created by the departures of the Americans. Claiming himself as a hero many times over during World War II, most claims discovered later to be false, Ferdinand Marcos entered the House of Representatives in 1949. By 1965 he had taken over the Presidency. During the next 21 years he ruled as a murdering, thieving dictator and left his economy still in the hands of a few massively wealthy families, the bulk of the population living in extreme poverty and the country with a crushing debt.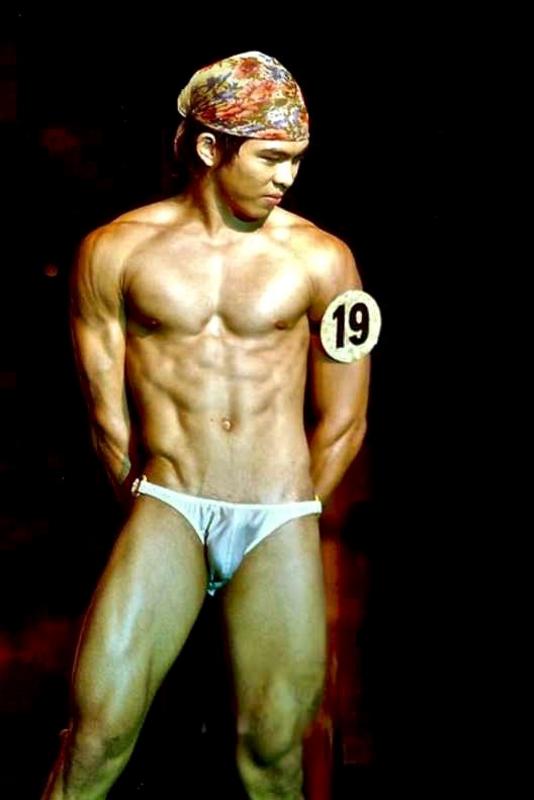 Filipino Gay Muscle Man Contestant
Yet gay life flourished during his later Presidency. Those of us who visited will fondly recall Coco Banana, Asia's first openly gay club and unquestionably the country's most famous nightspot. Further north in Manila's Quezon City was the raunchy sleaze club 690 Retiro Strip with long catwalks filled with a galaxy of handsome Filipino boys for rent and nudity was common. Many foreign tourists stayed at the Philippine Plaza Hotel on the bayside. This five-star hotel was owned by Imelda Marcos – her husband owned the slightly more exclusive five-star Manila Hotel further up the bay. At the week-ends it usually seemed like gay central with many westerners and their Filipino boys du jour taking over the pool and the restaurants.
Nowadays the economy has finally broken free and GDP has been rising quite rapidly. It remains a gay destination, with most gay bars and clubs still located in Manila. Increasingly, though, gay travellers are heading to the islands of Cebu, Boracay and Palawan to enjoy many pristine beaches and the attention of some of the Filipinos who look for the company of western guys.