Posts: 1951
Joined: Fri Aug 12, 2016 8:47 am
Has thanked: 19 times
Been thanked: 277 times
"In the land of the blind the one eyed man is king"
---
---
Was 28 point something just a few years ago. Long gone are the days when it was much higher (first time I came to Thailand, it was 44.5 baht to the dollar). I'm guessing GB saw it at least briefly over 50 to the dollar.
---
Posts: 16408
Joined: Sat Jul 31, 2010 11:21 am
Location: Thailand
Has thanked: 1 time
Been thanked: 749 times
That was when the Asian currency crashed. That was many years ago before I even lived here. It actually went to 55 baht to the dollar for about 2 weeks. Naturally that happened just
after
I had gone back to the USA . . .
---
Posts: 2622
Joined: Fri Jan 27, 2017 11:45 am
Location: Bangkok
Has thanked: 223 times
Been thanked: 585 times
This chart gives an indication of the currency movements over nearly 30 years. It shows the very temporary peak of Bt. 55.1 against US$1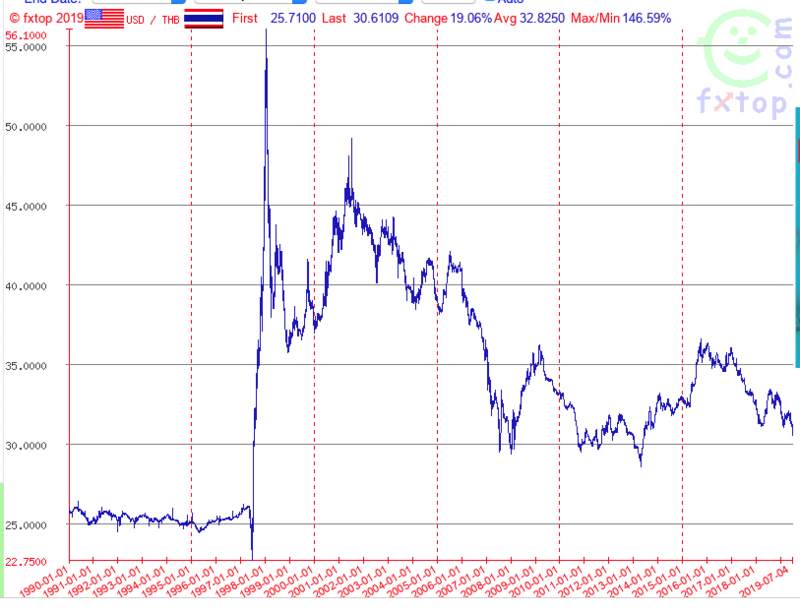 ---
Thank you Fountainhall. Also, it's useful to have a link to a site that goes all the way back to the 1950s for some currencies.
Having seen some small denomination LAK notes in a museum in Laos, I have long presumed they had a bad inflation issue at some point.
Looking at the USD v LAK exchange rate, clearly Laos had severe issues around the time of the Asian financial crises. Way more depreciation than Thailand.
Exchange rates can move all over the place, so I'm somewhat bemused by the title to this thread.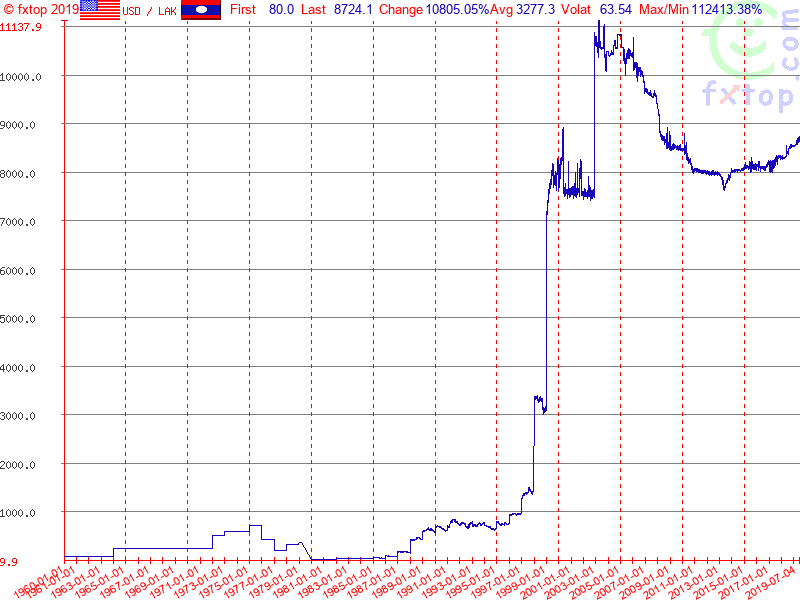 ---
Posts: 2622
Joined: Fri Jan 27, 2017 11:45 am
Location: Bangkok
Has thanked: 223 times
Been thanked: 585 times
I haven't checked charts but as I recall it, all Asian currencies were hit apart from the Chinese Yuan and Hong Kong dollar. Eventually most stabilised with a drop of around 20%. Hong Kong had had a fixed rate to the US$ since 1984 and was not prepared to loosen that peg (which remains to this day). With other regional currencies effectively devalued, Hong Kong was hit extremely hard and ended up with its worst recession since World War 2.

The Indonesian rupiah dropped from 2,600 to US$1 down eventually to over 11,000. Unlike the Baht it did not even partially recover. It now stands at over 14,000. South Korea's currency collapse was not as great but the country went through a very bad recession. By the start of the crisis, the big chaebols were in the same boat as many of Thailand's major companies - with massive debt loads which increased exponentially because their borrowings were in overseas currencies which had offered much lower interest rates. Eight of the top 30 chaebols quickly went bankrupt. Thailand received a $20 billion IMF bailout. South Korea's was three times that amount at $60 million.

I recall tales on television news of Korean salarymen who would leave home early in the morning in their suits and with their briefcases. They would then sit on a park bench somewhere and while away the day before returning home in the evening as though they had been at work. They could not face the humiliation of telling their wives they had been made redundant. There were many suicides.
---
Depending on what start point we take, the Lao Kip seems to have moved by about 1100% in approximately 6 years. Very extreme compared with some of the larger Asian economies.
---
On my first trip to Thailand about 26 years ago, I got 37 baht for my pound. Between then and now, it's averaged about 55 baht to the pound. So, I've had a good few years of cheap prices. Today, Thailand doesn't offer such good value for money, but I won't stop visiting. I've booked three months' holidays in Thailand for this year. Next year, I will have shorter holidays in Thailand and spend some time elsewhere. I spent seven excellent weeks in Turkey in May/June this year and it was incredible value for money. My hotel room was modern and spacious with a large balcony, all meals and snacks were included along with a free bar. It cost me £28 per night.
---
I've been using 30 baht to the dollar as a rough average for my holiday budget planning for many years and ironically that's exactly what it is today.

Now that I'm retired, I don't plan my monthly budget based on what I think I'm going to get - I plan based on what I got. When it's up, I have some extra mad money - when it's down, I tighten my belt a bit. No big deal!

I prefer letting the Ruling Parties and Wall Street who spend their lives focusing on "Money" worry about these things..
---