Posts: 2066
Joined: Fri Aug 12, 2016 8:47 am
Has thanked: 18 times
Been thanked: 287 times
"In the land of the blind the one eyed man is king"
---
---
Posts: 16762
Joined: Sat Jul 31, 2010 11:21 am
Location: Thailand
Has thanked: 1 time
Been thanked: 820 times
Surging baht shatters expat dreams of easy retirement
October 4, 2019
Brian Maxey moved to Thailand from the United Kingdom expecting his sterling pension to afford him an easy retirement. Instead, he's finding it harder to meet his visa's financial stipulations because of the strong baht.
The former aircraft technician easily bought a townhouse, pickup truck and motorcycle when he arrived at the age of 55 two decades ago. Back then the pound bought about 60 baht, but now it fetches a little less than 38 baht.
"It was a cheap place to live then," Maxey said in an interview in the coastal city of Pattaya, which is popular with European retirees. "It's not anymore."
The pressure on foreign pensioners is just one example of how the baht's sharp appreciation is rippling through Thailand. The currency is the world's top-performer against the dollar over five years, hurting export competitiveness and putting the economy on course for the weakest growth since 2014.
The government issued almost 80,000 retirement visas last year, a climb of 30% from 2014. To qualify, foreigners must show a deposit of 800,000 baht in a Thai bank or have a monthly income of 65,000 baht. Another route is to have income and deposits totaling 800,000 baht combined.
Britons accounted for the largest number of retirement visas in 2018, Immigration Bureau data shows. They were followed by Americans, Germans, Chinese and Swiss pensioners seeking affordable, sun-dappled golden years.
Once best known for crashing and sparking the 1997 Asian financial crisis, the baht is today seen as a haven by global investors. A trade surplus and annual foreign tourism receipts exceeding $60 billion underpin its resilience.
The currency has appreciated more than 6% against the dollar so far in 2019, the best performer in a basket of Asian economies tracked by Bloomberg.
It's likely to stay resilient, said Masakatsu Fukaya, an emerging-market currency trader at Mizuho Bank in Tokyo. There could be more upward pressure if firms relocate production to Thailand to skirt US tariffs on China-made products, according to Fukaya.
Some pensioners are already voting with their feet, according to Niels Colov, who moved from Denmark about 40 years ago and helps to organise a club for expats in Pattaya.
"There's an exodus of foreigners from this area to Vietnam, Cambodia and the Philippines," he said. "We're talking thousands of people."
Some of those remaining may have to cut back spending, said Christian Foerster, an Austrian who retired to Thailand 20 years ago.
"There's an enormous change," he said. "Everything is more expensive. But it's about adjusting, adapting and living modestly."
At the same time, the cost of living in Thailand remains lower than in developed nations such as the United States or in Europe, and officials continue to promote it as a retirement destination.
Baht strength leaves Pattaya retiree Maxey's £1,000 pension far short of the minimum monthly requirement. As a result, he maintains the equivalent of a £22,000 deposit to satisfy the bank savings rule when renewing his visa.
"That's a lot of money to hold in a bank account that you can't touch," Maxey said, while adding he wants to stay on in Thailand despite the difficulties as he's settled in the country.
https://www.bangkokpost.com/business/17 ... retirement
---
The merits of parking some of your assets in Switzerland or Singapore were mentioned in another post.
One of the advantages of Singapore is much closer correlation between the SGD and THB, at least in the last 20 years, after the Asian financial crisis. So lower exchange rate risk vs the Baht, but without having to park all your money that has military coups almost as part of the constitution.
The following graphs show the THB v SGD, USD, EUR, GBP and CHF for 30 years.
As we all know, past performance is no guarantee of future performance.
Also, the THB has strengthened against all of these currencies in the last 3 years.
[I also don't quite know what they used for the Euro before 2000 -substituting the DEM is one way, but that excludes the less sound economies].
Finally, I
know
I'm not smart enough to predict which way currencies will move in the short term (say 5 years), so all I do is try to reduce the risk of exchange rate volatility. That's done by international diversification of investment of my pension and savings, considering that a good proportion of my annual spend is on foreign travel and another good proportion is on imported goods.
This isn't guaranteed to work, but it is better to try.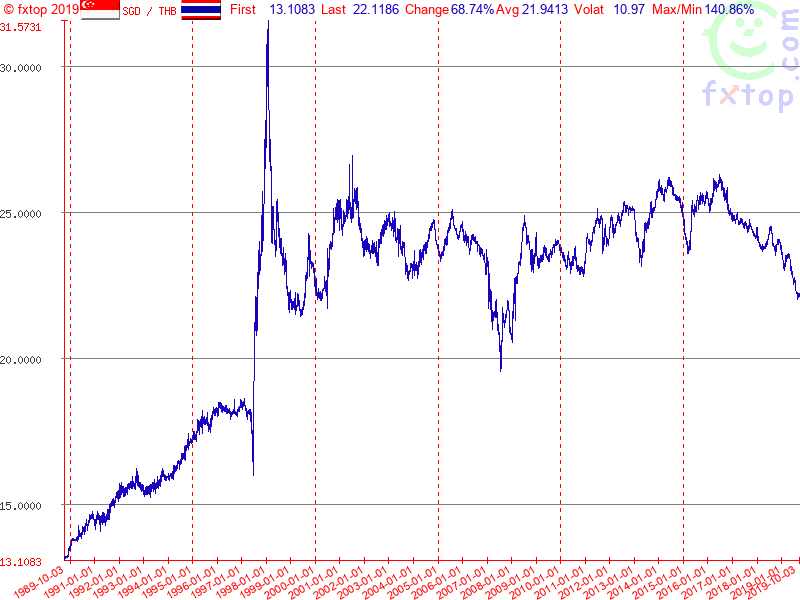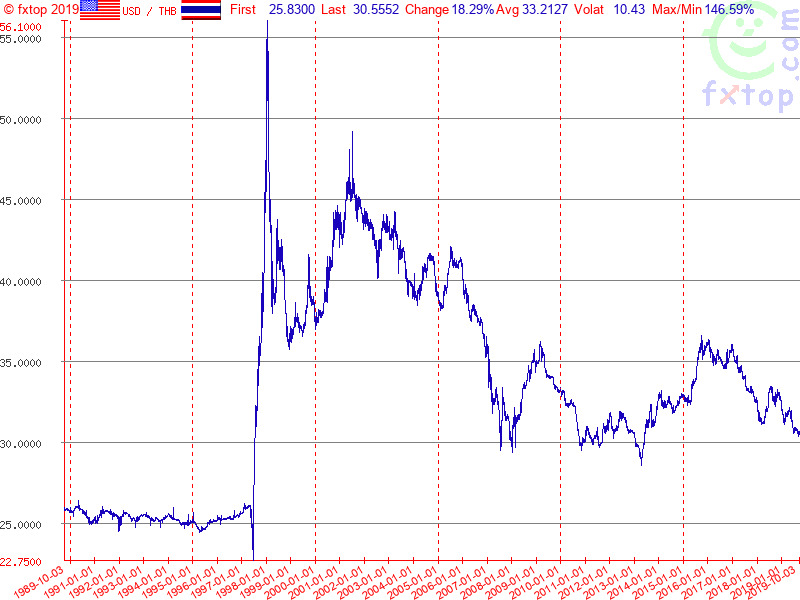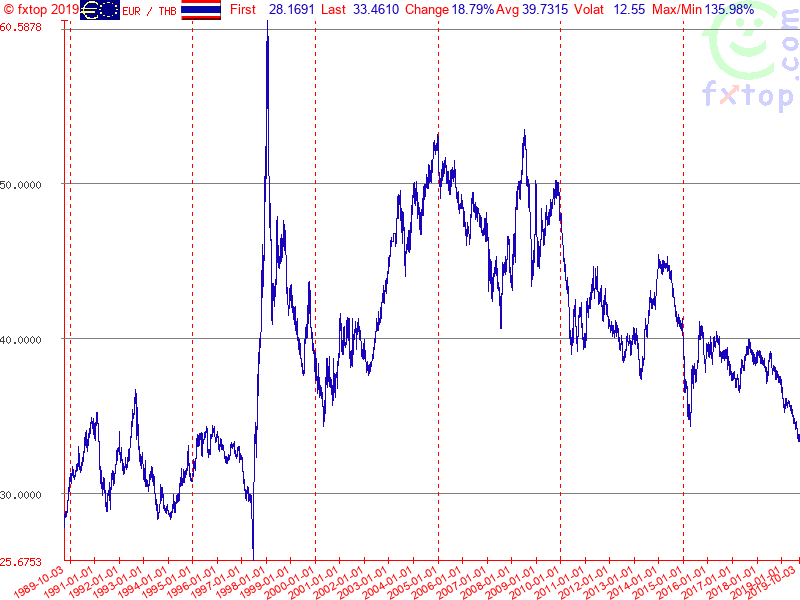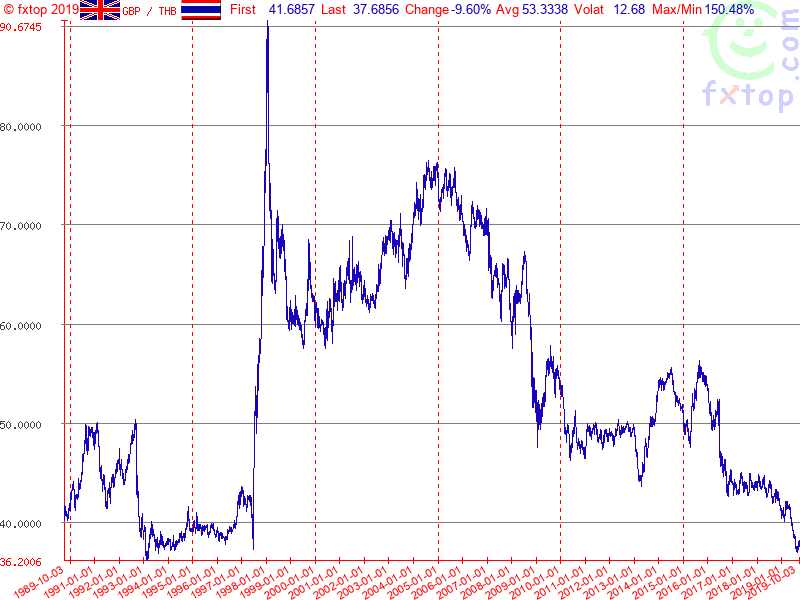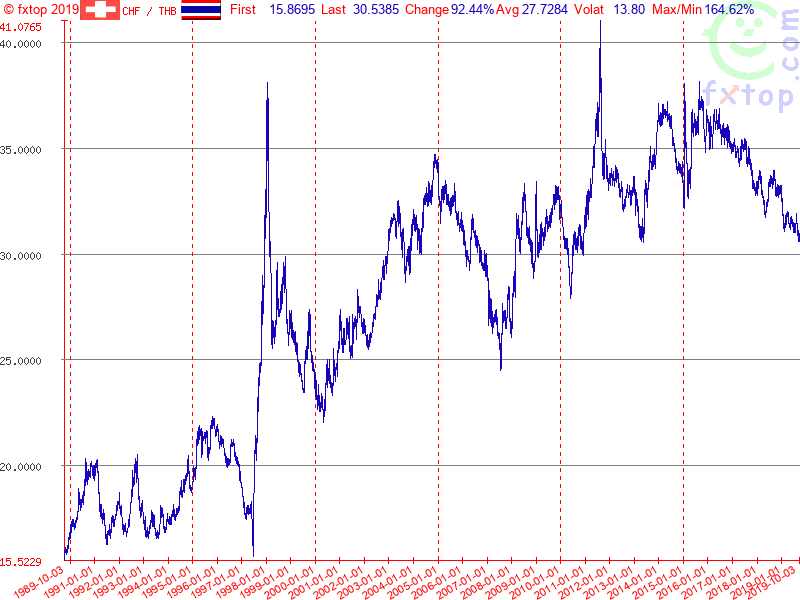 ---
Posts: 79
Joined: Sat Jul 31, 2010 10:11 pm
Has thanked: 133 times
Been thanked: 8 times
Oh my, so much for my next trip to the land of smiles. I'll just have to think of instead of 2 to 3 times a year, to 1 trip a year. Still love the thai boys and friends I've made there.
---
Posts: 16762
Joined: Sat Jul 31, 2010 11:21 am
Location: Thailand
Has thanked: 1 time
Been thanked: 820 times
BoT: Overseas investment ceilings to rise
Veerathai plans announcement by year-end of eased rules to help tame baht
4 Oct 2019
In the face of a strong baht that has been Asia's best performing currency this year, the Bank of Thailand will further relax rules on capital outflows before the end of the year, says governor Veerathai Santiprabhob.
There will be a "substantial increase" in the ceilings that let investors such as mutual funds invest abroad, while the limit that allows Thai individuals to directly invest overseas will also be increased, he said in an interview with Reuters on Friday.
Mr Veerathai said he thinks monetary policy is currently accommodative, but the central bank is ready to take action if needed — and is keeping a close watch out for any further global shocks.
The Monetary Policy Committee held its benchmark rate steady last week after a surprise rate cut in August, but downgraded its 2019 growth outlook amid heightened global risks and a strong baht.
"For the current projections, I think that the current policy rate is accommodative," Mr Veerathai said.
"But if we see the deterioration of economic activity beyond what we have forecast, we stand ready to review our monetary policy.
"If the global economic condition deteriorates much further, that would be one of the main factors. I think that's the largest factor."
Risks to financial stability are still a concern for the policy committee, he said.
"When interest rates have been low for a long time, it has some impact on the leverage of the whole economy. … We need to be mindful of that impact on financial stability as well."
High household debt levels - at 78.7% of GDP at the end of June - are "not healthy", Mr Veerathai said, adding he is hoping that will come down or at least the trend will stop.
Recent government stimulus measures are helpful, and more are expected, he said. He declined to give details as to exactly what he expected, but said it was not only about spending money.
On Sept 25, the MPC kept its benchmark interest rate unchanged at 1.50% — just a quarter point above the record low.
But it cut its 2019 economic growth forecast 2.8% — which would be the lowest since 2014 — from 3.3%, and predicted falling exports. Last year's growth was 4.1%.
In the second quarter, Southeast Asia's second-largest economy expanded just 2.3%, the weakest pace in nearly five years.
The rate cut did little to curb the baht's strength and with low inflation and weak growth, some analysts expect further rate cuts later this year.
The central bank will monitor the movement of the baht closely and is ready to deploy measures on "undesirable inflows" to make sure that the baht's movement does not hurt the economy, Mr Veerathai said.
Before the end of the year, the central bank will announce more liberalisation on capital outflows for Thai investors to invest abroad to help better balance inflows and outflows, Mr Veerathai said.
There will also be measures that allow exporters to have more flexibility in keeping foreign currencies abroad, instead of bringing them back to Thailand, Mr Veerathai said.
The baht is Asia's best performing currency this year, up nearly 7% against the dollar, putting further pressure on the export-driven economy.
Mr Veerathai said he did not expect headline inflation to be negative and it should return to the central bank's 1-4% target range next year.
The central bank, he said, will also decide at the year-end whether it needs to impose a debt-service ratio limit, something that has been mooted as a way to rein in bad debt.
https://www.bangkokpost.com/business/17 ... gs-to-rise
---
Posts: 16762
Joined: Sat Jul 31, 2010 11:21 am
Location: Thailand
Has thanked: 1 time
Been thanked: 820 times
BOT plans measures to curb baht's rapid appreciation
Oct 10. 2019
The Bank of Thailand (BOT) plans new measures within a few months to curb the baht's rise, the central bank's governor said on Thursday.
Among the measures being considered are liberalisation of capital outflows.
BOT Governor Veerathai Santiprabhob said the central bank's Monetary Policy Committee has been worried much about the appreciation of the baht.
The BOT is planning additional measures to rein in the rising baht, and it would be ready in one or two months, he told reporters.
The new package of measures would cover three key areas, he explained.
First, the BOT will liberalise capital outflows by allowing individual investors and institutional investors to take more money out of the country for investment abroad. Exporters will also be allowed to park their money abroad when they earn income overseas. The BOT will also liberalise the currency exchange business and cross-border payment services in order to reduce the cost of cross-border transactions for people and businesses.
Second, the central bank will look into the import and export of gold in order to ensure that the gold trade would not move the value of the baht sharply. Veerathai insisted that the central bank would not limit or control the gold trade.
Third, the BOT will look into the structure of current account surplus. For example, the bank may encourage more import of capital goods for infrastructure investment, such as more investment to support infrastructure of digital economy.
Veerathai, however, clarified that the fast appreciation of the baht over the past few days had been a result of investors bringing in more money to invest in one large company. He did not reveal the name of that company. However, it is widely known in the market that the company being mentioned is Asset World Corp, a leading real estate developer led by billionaire Charoen Sirivadhanabhakdi's family. The company made its debut in the stock market on Thursday.
The baht hit a six-year high on Wednesday and on Thursday it moved at around Bt30.30 per US dollar while some analysts expected it would strengthen to Bt30.
https://www.nationthailand.com/business/30377279
---
Posts: 16762
Joined: Sat Jul 31, 2010 11:21 am
Location: Thailand
Has thanked: 1 time
Been thanked: 820 times
BoT prepares to restrain baht
By Somruedi Banchongduang
October 11, 2019
The Bank of Thailand is set to step up efforts to rein in the baht in the next few months by easing capital flow regulations, managing gold trading flows and lowering the current account surplus, says its chief.
The central bank is talking with related regulators to encourage outbound portfolio investment by both institutional and individual investors, said central bank governor Veerathai Santiprabhob.
The measures are expected to be implemented in the next few months, he said.
The regulator will encourage exporters to hold foreign currencies overseas longer and allow portfolio investors to invest more abroad, Mr Veerathai said.
Outbound portfolio investment would help balance massive inbound portfolio investment and is an instrument for managing the baht, he said.
On Thursday the baht weakened a bit to 30.34 against the US dollar after hitting 30.32, the highest level since June 2013, on Wednesday.
The local currency, considered a safe haven amid heightening global uncertainty, is the best-performing currency in Asia, rising more than 7% against the dollar so far this year.
The baht's strength has hampered exporters and tourism, but the central bank will monitor the currency to prevent it from rising too fast, Mr Veerathai said.
The central bank started to curb short-term offshore inflows by reducing new short-term bond supply in July. This was followed by lowering the cap on the outstanding balance of non-resident accounts from 300 million baht per person to 200 million baht and requiring reports with the names of end beneficiaries for all non-resident holdings of Thai debt securities.
A net US$4.5 billion in offshore funds flowed outwards during August-October.
Mr Veerathai said the central bank is looking into possible methods to manage gold trading flows but it has no policy in place to control trade in the precious metal.
Global uncertainty stemming from economic and geopolitical factors has stoked demand for gold, leading to significant gold trade in Thailand.
"Such activity, however, doesn't benefit nor add value to the economy," Mr Veerathai said. "On the other hand, the side effect on the economy is a stronger baht."
For the first eight months of this year, the current account surplus amounted to $25 billion, of which $4-5 billion was from gold.
Mr Veerathai said the current account surplus is a structural economic problem that warrants infrastructure investment from the public and private sectors to help lower the surplus.
Digital infrastructure investment in accordance with the country's digital economic roadmap will lead to higher imports, he said.
Mr Veerathai specified rising foreign direct investment, including project investment, mergers and acquisitions, and capital market activity, as a factor lending support to the baht's appreciation.
"Payment for asset and share acquisitions by foreign investors in transactions of around tens of thousands of baht recently is a key factor strengthening the baht," he said.
Thailand's current account surplus has continued to decline from 11.5% of the country's GDP in 2015 to 6.3% now, and the trend is expected to continue into next year because of domestic infrastructure investment.
Despite the country's economic slowdown, the governor affirmed that signs of either a recession or a crisis have not been spotted.
The Bank of Thailand recently cut its economic growth forecast for this year to 2.8%, a level below the estimated growth potential, from 3.3%. It projects growth to improve to 3.3% next year.
The central bank is in discussions with the Finance Ministry to adjust inflation targeting and will finalise plans by the end of the year, Mr Veerathai said.
https://www.bangkokpost.com/business/17 ... train-baht
---
Posts: 71
Joined: Wed Aug 15, 2018 7:08 pm
Has thanked: 63 times
Been thanked: 10 times
At least the GBP has had a good day.
I hope the clowns in the British Government can restrain their tongues and do some serious negotiating.
---
Posts: 16762
Joined: Sat Jul 31, 2010 11:21 am
Location: Thailand
Has thanked: 1 time
Been thanked: 820 times
Rate cut will not slow baht appreciation
by Darana Chudasri
October 25, 2019
The Bank of Thailand's Monetary Policy Committee (MPC) could cut the policy rate another 25 basis points before year-end, but the move is not expected to rein in the baht's rising strength, says Kasikornbank (KBank).
"Another possible rate cut this year is not anticipated to mitigate the baht appreciation significantly," said Kobsidthi Silpachai, head of capital markets research at KBank.
"The move would alleviate the pressure [for lower interest rates] in an environment where global central banks have been cutting their benchmark interest rates."
The seven-member MPC slashed the policy interest rate by 25 basis points to 1.5% in August, the first cut in more than four years, to boost Thailand's lethargic economic conditions.
The current rate is only 25 basis points higher than the Bank of Thailand's record low of 1.25% during the 2009 global financial crisis.
The MPC will continue adopting a data-dependent approach to deliberate the monetary policy outlook, while the need to preserve policy space to cushion against possible future risks is necessary, according to the latest edited MPC minutes published on Sept 25.
The committee will reconvene on Nov 6 and the last meeting for this year is scheduled for Dec 18.
The baht's value is projected to continue appreciating, possibly dropping under 30 per US dollar in the middle of next year, said Mr Kobsidthi.
Factors supporting the outlook are investors' appetite for safe-haven assets, Thailand's current account surplus and a possible upgrade of the country's sovereign credit rating by international credit rating agencies, he said.
"The baht's value could touch 29.70 during the first half of 2020 and continue appreciating to 29.20-29.30 in the second half," said Mr Kobsidthi.
Heightening uncertainty in the global financial markets and risks related to the Sino-US trade dispute have fanned an appetite for safe-haven assets among investors, with the baht and bullion rising on fund inflows, he said.
The local currency's strength is also further induced by Thailand's huge current account surplus, projected at around US$34 billion, inbound tourism revenue and capital inflows, said Mr Kobsidthi.
"Exports would be the primary cause of the baht appreciation rather than imports. Although this year's exports may not expand that much due to the global economic slowdown, next year's imports are expected to decline as domestic investment has not accelerated," he said.
The baht's value is forecast at 30.50 baht per dollar this year-end, according to KBank.
https://www.bangkokpost.com/business/17 ... preciation
---